MPI TS150-THZ Probe System
MPI TS150-THZ - 150 mm Manual Probe System for mmW & THz Measurements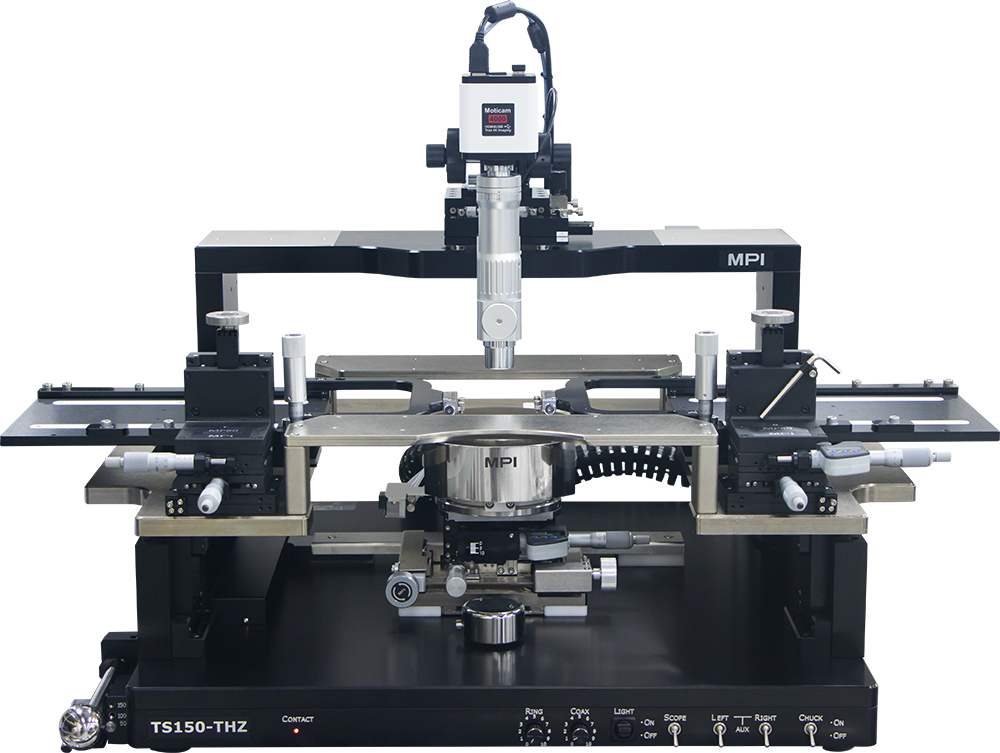 MPI TS150-THZ with mmW Frequency Extenders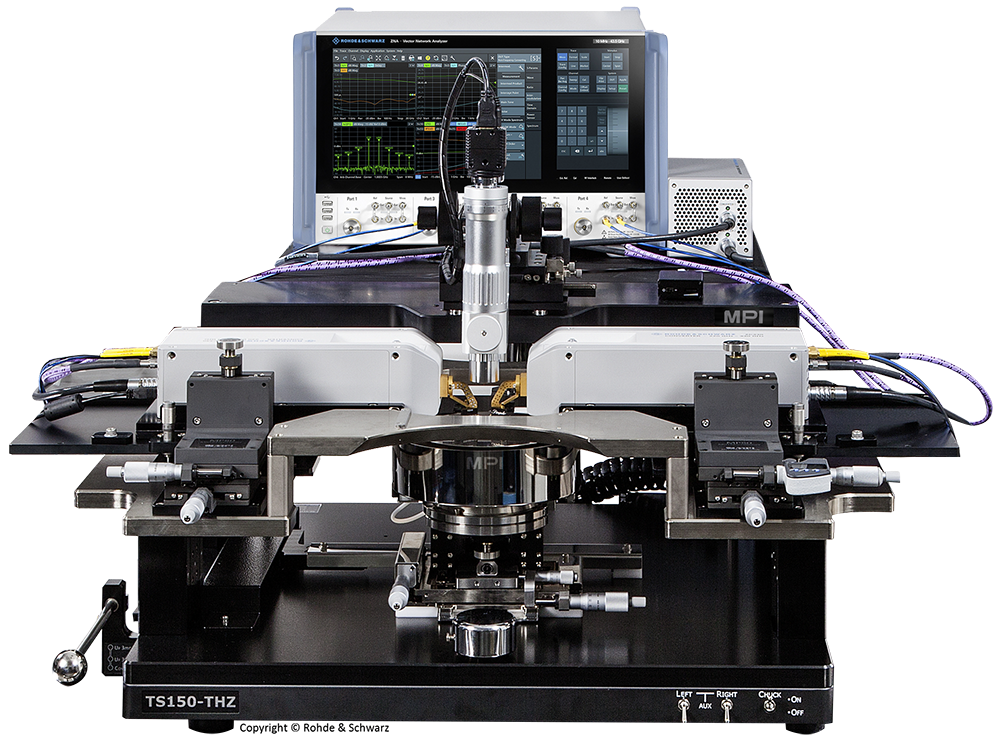 MPI TS150-THZ with R&S Frequency Extenders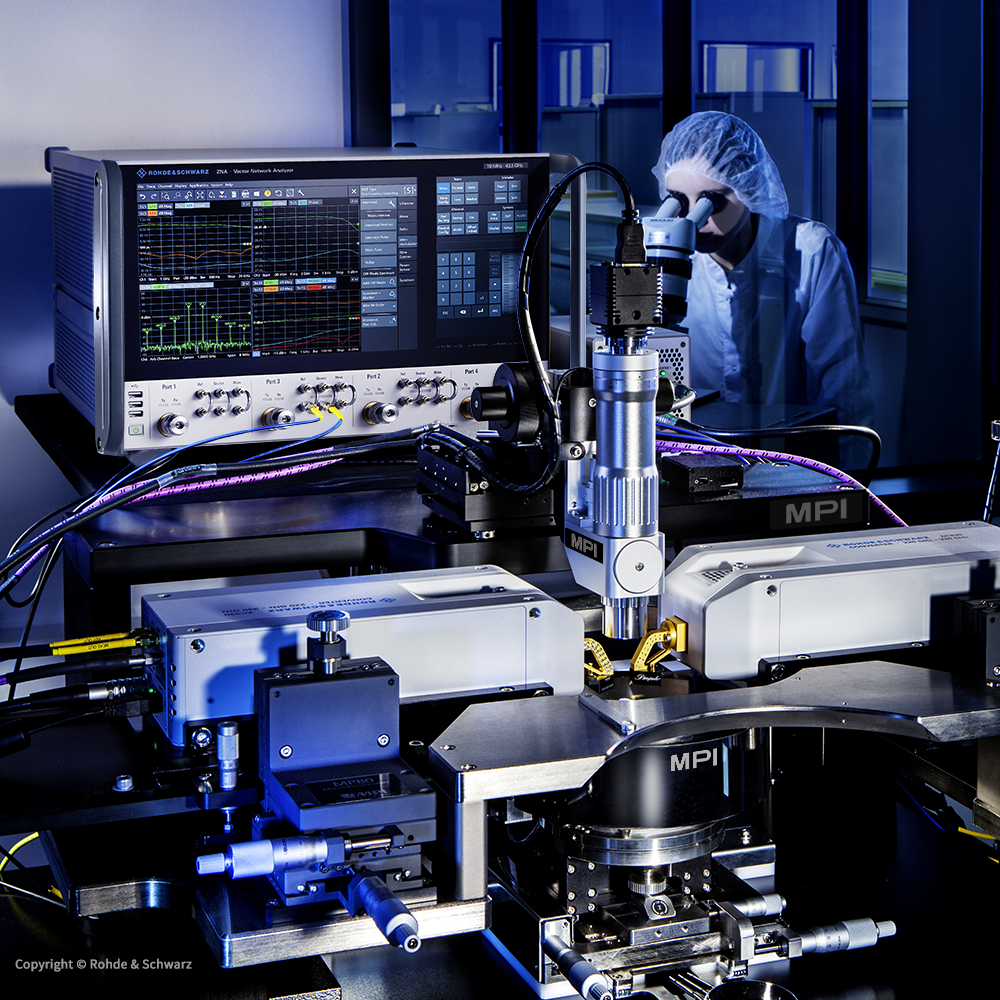 With significant expansion of emerging THz applications, such as high-speed 5G communication, satellites, non-invasive spectroscopy, security and surveillance, medical and health care equipment, and short range automotive radar, the need for accurate, reliable and repeatable measurement data has become more crucial than ever. This is especially true for the research and technology development of the devices, integrated circuits and new product building blocks serving the need of these THz applications.
The MPI TS150-THZ is the first, worldwide 150 mm dedicated probe station designed explicitly for mmW and THz on-wafer measurements up to 1.5 THz and beyond. It provides unsurpassed features:
Seamless integration of any banded, differential or broadband frequency extenders up to 1.5 THz
Maximum on mechanical stability and repeatability combined with convenient and safety operation
Minimizing the measurement path for best possible measurement directivity
Air-Bearing Stage
The MPI unique air-bearing stage design, with simple single-handed puck control, provides unsurpassed convenience of operation for fast XY navigation and quick wafer loading without compromising accurate and fine positioning capability with the additional fine and accurate 25×25 mm XY-Theta micrometer movement.
First-to-market 3-Port Capability
Ready for the D-Band and 6G technology with RF/LO frequency coverage to 170 GHz and beyond.
As first on the market, MPI's TS150-THZ enables, 3-port mmW characterization of e.g., broadband sub-harmonic mixer by testing of two-sided coupling energy of mmW and local oscillation (LO) signals simultaneously.
MPI offers an easy upgrade path for the existing TS150-THZ systems as well.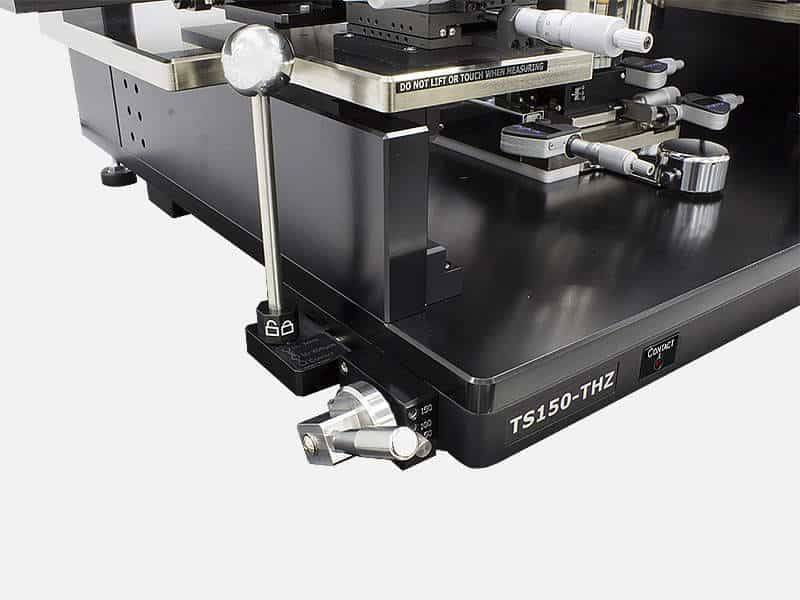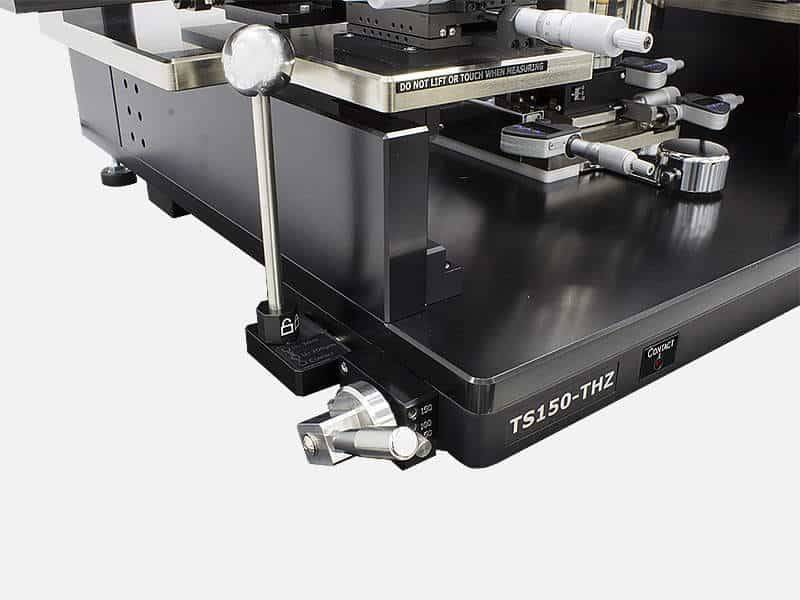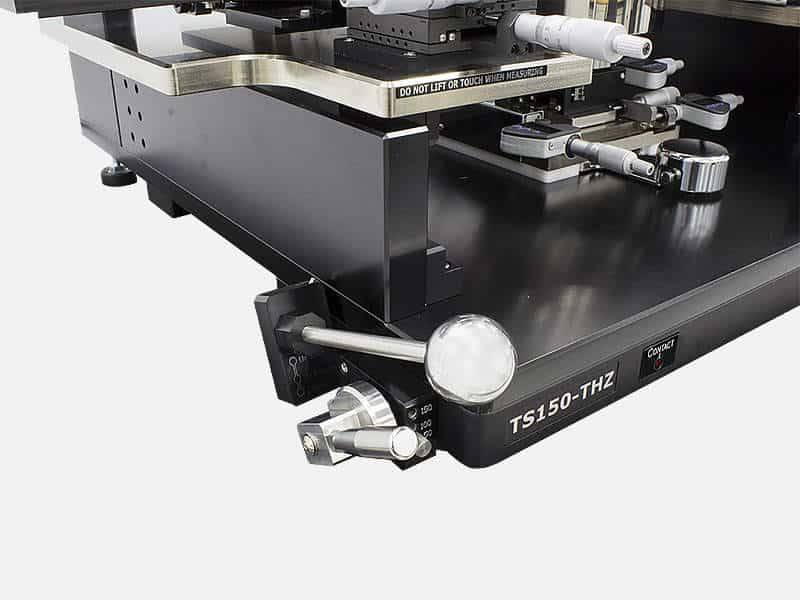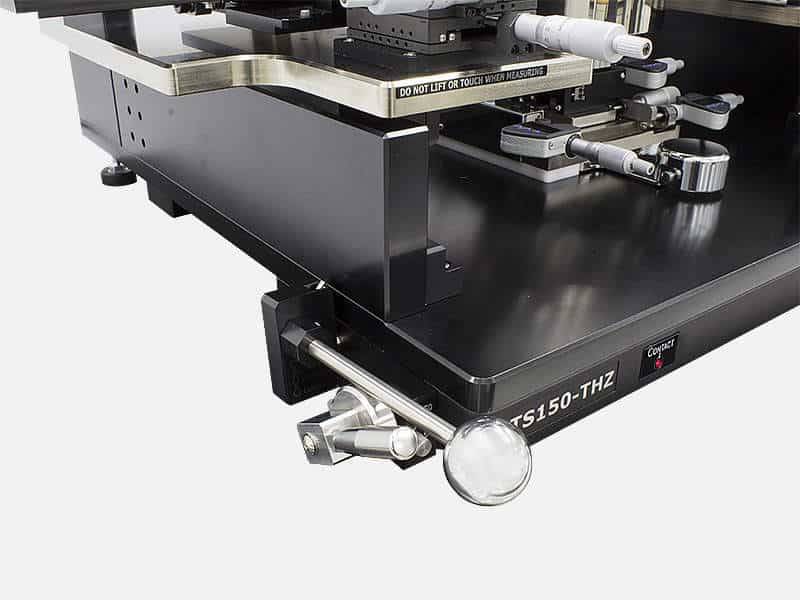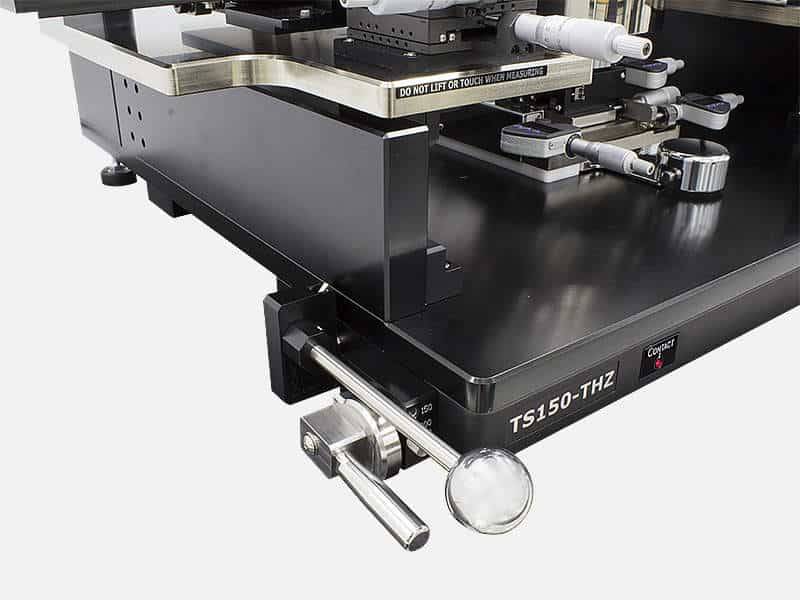 Unlock & Loading Position
Contact Position with 50 µm Hover Height
Unique Platen Lift
with Probe Hover Control™
The highly repeatable (1 µm) platen lift design with three discrete positions for contact, separation (300 µm), and loading (3 mm) with a safety lock utility are all examples of unparalleled functionality incorporated into MPI TS150-THZ manual probe system. These features prevent unexpected probe or wafer damage while providing intuitive control, accurate contact positioning, and safety set-up. This capability is especially critical if probes in mmW and sub-THz range are so cost intensive.
Additional Probe Hover Control™ comes with hover heights (50, 100 or 150 µm) for easy and convenient probe to pad alignment
Chuck Z Adjustment
TS150-THZ has 10mm fine chuck Z adjustment, designed to be flexible in the integration of different frequency extenders, like from Rohde & Schwarz, VDI or OML. Extremely beneficial for set-ups using several bended solutions on the same probe system – for easy and fast reset-up.
Multiple Configurations of MicroPositioners
The dedicated and extremely rigid probe platen design accommodates two bolt-down MP80 large area MicroPositioners in east-west configuration. Four port RF measurements or DC biasing is easy possible by having two North and South "bridges" as a standard configuration.
MP80-DX
Another MPI pioneering solution on the market – the unique MP80-DX with easy and precise definition down to 1µm of Δl – is the ideal choice for accurate and cost-effective multiline TRL – the only RF calibration method in the mmW and sub-THz range. For more details, visit MPI QAlibria® software.
Various Chuck Options
The TS150-THZ is available with various chuck options to meet different budgets and application requirements such as MPI's:
Standard RF Chuck with BNC connector,
Dedicated mmW Chuck, completely build in special ceramic with high thermal conductivity (>180W/Km), or even
ERS AirCool RF Chuck (from 20°C to 200°C, or higher) with integrated Gold plated top surface with small vacuum holes
All chucks having two auxiliary chucks built in ceramic material for accurate RF calibration, especially in the range above 40GHz.
Various Optic Options
A dedicated MPI Optics are available with a choice between a single tube MPI SuperZoom SZ10 or the MegaZoom MZ12 with up to 12x optical zoom and more than 45 mm working distance. The small factor of such microscopes is ideal for RF and mmW applications due to space restrictions inherent with the integration of frequency extenders requiring shortest distance to DUT.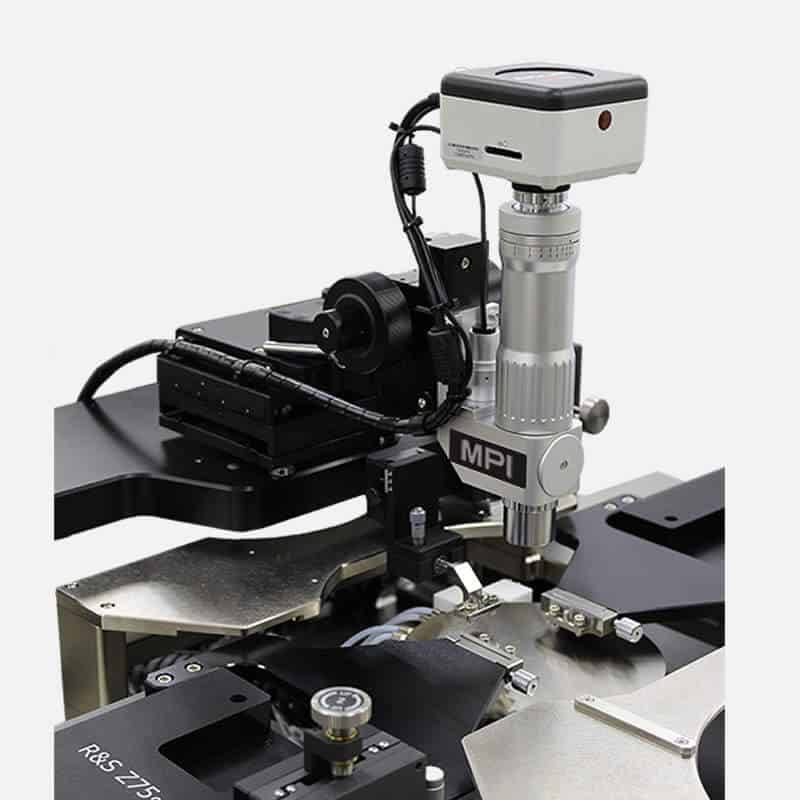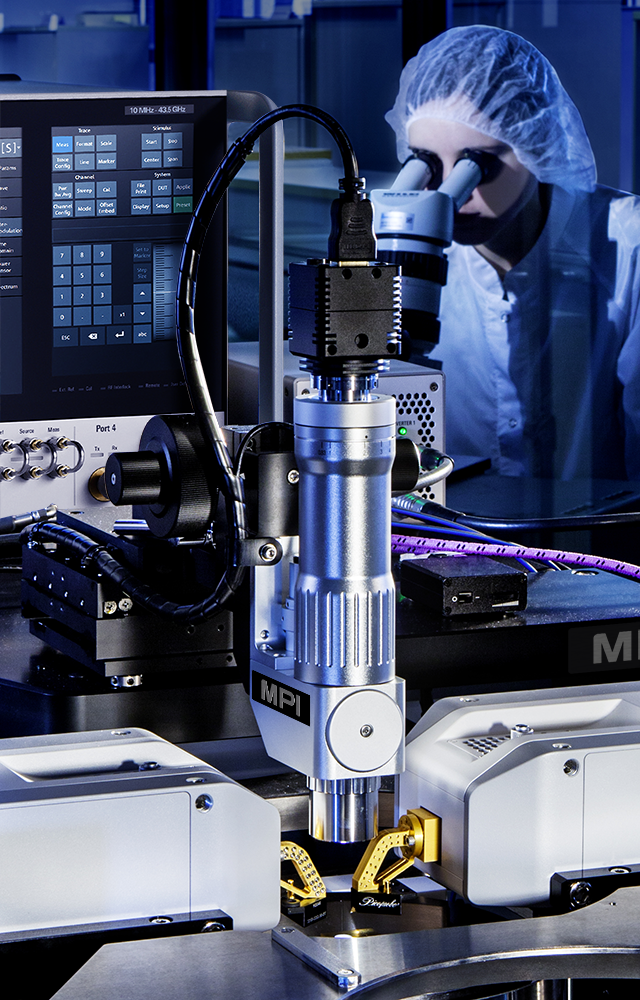 MPI MZ12 Single Tube Microscope with 5MP Camera
MPI MZ12 Single Tube Microscope with 2MP Camera