Source Measurement Solution Case Study for VCSEL / LD Testing Application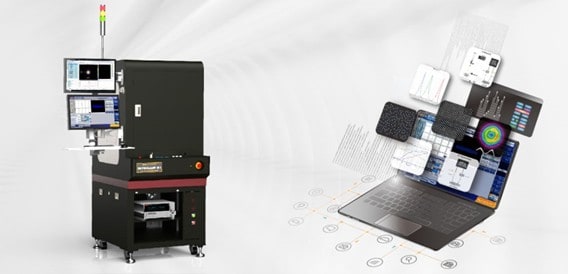 Overcoming Source Measurement Obstacles
Case Study
The Challenge:
Headquartered in Taiwan, MPI Corporation produces a wide range of technology products ranging from probe card and production LED/Photonics test equipment to advanced semiconductor test equipment and eco-minded thermal products. Developing these innovative technologies requires reliable, cutting-edge test equipment to validate, troubleshoot and optimize designs for their customer's demanding applications.
With VCSEL applications being a key focus market, MPI needed a Source Measurement Unit (SMU) that was well-suited for a variety of testing applications (see below) Tektronix's innovative and efficient SMU product has enabled MPI to provide ideal solutions for their customers.
Vertical Cavity Surface Emitting Laser (VCSEL) Testing
Known to be temperature-sensitive, VCSEL emission spectra are altered by the temperature dependence of the refractive index and the thermal expansion of the resonator material. This leads to varying power curves and optical uniformity. VCSEL testing requires precise current control to avoid damage to both the DUT and probe.
Light Intensity-Current-Voltage (LIV) Testing
Typical SMU's designs can only deliver longer pulses (>100ms) and require multiple instruments to measure LIV electrical test parameters (If, Vf, Vr, ILeakage, VBreakdown).
Laser Diode (LD) Testing
When outputting current pulses, cabling and inductance can be problematic for laser diode testing. Because inductance resists current variations, the current source may overcompensate the output voltage resulting in overshoot and ringing as the pulse settles.
The Solution:
Tektronix's 2601B-Pulse SMU has helped MPI streamline its product development by addressing these challenges with a handful of key features.
Combining the capabilities of multiple instruments like voltage sources, DMMs, and
switches
into one reliable device means less time building and tuning complex setups and more time
making real progress on product development.
The 2601B-Pulse control loop system constantly adjusts the output for load changes
minimizing overshoot or ringing when outputting a pulse from 10 μs to 500 μs up to 10 amps.
PulseMeter™ Technology minimizes the risk of damaging VCSELs and burning out probing
equipment.
Dual 1 MS/s digitizers enable capturing the source output and measurement simultaneously
making it easier to review test results quickly without the need for a separate instrument.
TSP-Link technology together with TSP technology enables high-speed, SMU-per-pin
parallel testing and low-latency communication. This makes testing multi-zone VCSELs in
parallel and improving throughput much more accessible.
Thoughts from the Customer
"The 2601B-PULSE one-box unit gives exactly what our customers need for measuring high
current output, low current sensitivity and short pulse solutions with significantly less
damage to both DUTs and probe tips." Hector Lin, Product Development Manager.

 Overcoming Source Measurement Obstacles – Tektronix & MPI Corporation 
For more information please visit Tektronix Website.
About MPI Corporation
Founded in 1995 and headquartered in Hsinchu, Taiwan, MPI Corporation is a global technology leader in Semiconductor, Light Emitting Diode (LED), Photo Detectors, Lasers, Materials Research, Aerospace, Automotive, Fiber Optic, Electronic Components and more. MPI's four main business sectors include Probe Card, Photonics Automation, Advanced Semiconductor Test and Thermal Divisions. MPI products range from various advanced probe card technologies, probers, testers, material handlers, inspection and thermal air systems. Many of these products are accompanied by state-of-the-art Calibration and Test & Measurement software suites. The diversification of product portfolio and industries allows a healthy environment for employee growth and retention. Cross pollination of product technologies allows each new innovation to provide differentiation in areas that are meaningful to our precious customer base.
For more information please visit: mpi.com.tw
About Tektronix
Tektronix, Inc., headquartered in Beaverton,Oregon, delivers innovative, precise and easy to operate test, measurement and monitoring solutions that solve problems, unlock insights and drive discovery globally. Tektronix has been at the forefront of the digital age for over 70 years.
For more information please visit tek.com